The older house of K-pop has taken the next step in their quest to conquer another country with the SMTOWN live concert. This time, the old friend of the genre in South America, Chile, will be the holder of the big event.
2019 SMTOWN LIVE – SPECIAL STAGE in SANTIAGO
⁰⁰SM ENTERTAINMENT, NoiX Entertainment y DREAM MAKER anuncian de forma oficial el más icónico e importante festival de K-Pop en el mundo. ⁰⁰
Uno de los sueños que solo podrás vivir una vez en la vida
⁰#SMTOWNinChile #NoiXLoDaTODO pic.twitter.com/2yS7bPJxri

— NoiX Entertainment (@Noi_X) December 13, 2018
There has been a lot of talk and rumours about the arrival of SM in Chile, and it's been finally confirmed by NoiX Entertainment last month. The presentation of the K-pop family will take place from January 18 to 19 at the National Stadium.
This means a lot for the country. All the big media companies have been talking about this of the, by now, not so unknown genre. In the past, historic groups of the label like Super Junior and SHINee have already visited the country but now will also count with the presence of groups like red velvet and members of SNSD. It's not a secret that SM wanted to extend to this side of the world and they found the right partner with Chile, a country that is considered the epicenter of K-pop in the region and for the same reason the show will have two dates in the National Stadium which has a capacity of almost 50,000 persons, so they expect a lot of foreigners from all the region, especially Argentine and Brazil.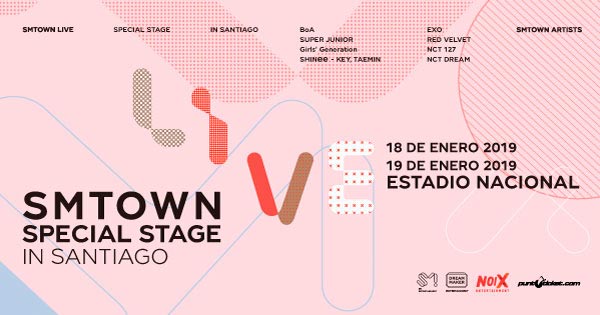 This will be the first K-pop festival in the country and surrounded of news like the possible sign of a Chilean artist, Millaray Mandiola with SM and the next to launch show about K-pop in one of the big three tv channel stations, show how interested are SM and Korean music industry to claim their place in the national music scene. The ticket price range starts at 50.000 Chilean pesos (72$) to the VIP experience which costs 150.000 Chilean pesos (217$). Not especially pricey considering the experience and the groups who will present.
In only 2 more weeks some of the most important groups will present making history and possibly opening the doors for future festivals, more groups, and growth and the "Hallyu" wave all over the world.
You can find the whole infomation about the tickets at: