Three long years of waiting has finally come to an end as TWICE stormed the Mall of Asia Arena last June 29, 2019 for the Manila leg of TWICE WORLD TOUR 2019: TWICELIGHTS. TWICE debuted last 2015 and since then, their Filipino ONCEs (name of the fandom) have been waiting for them to perform in the Philippines.
Mall of Asia Arena was slowly being filled with beautiful colors – TWICE's official colors Apricot and Neon Magenta – as ONCEs lit their Candy Bong Z even before the start of the concert.
The Start of the Awesome Night with TWICE
TWICE stood up on stage wearing a black elegant-looking costumes. They opened the concert with a powerful performance of "Stuck in my Head" rock version. Deafening cheers continued to rise up as TWICE performs remix version of their songs "Cheer Up" and "Touchdown".
After their incredible opening performances, TWICE greeted their Filipino ONCEs and introduced themselves in Tagalog. "Magandang gabi! Ako si Dahyun. Kumain ka na? (Good evening. I am Dahyun. Have you eaten?)"
During their segment, Momo mentioned how nervous she is since it is their first time to perform in the Philippines. Momo's parents also flew to the Philippines to support her in this concert.
They continued to give the fans amazing stages as they perform "BDZ, " "Yes or Yes, " a cover of The Jackson 5's "I Want You Back, " and a remix version of "Dance the Night Away".
The girls once again stood up on stage, this time wearing beautiful white dresses. They looked like angels as they serenade the fans with the songs "After Moon," "You in my Heart," and "Sunset".
They went back the stage singing the continuation of Heartshaker while wearing their red outfits! #TWICELIGHTSinMANILA pic.twitter.com/T0WtgpMAKD

— KPOPCHANNEL.TV ⭐ (@kpopchannel_tv) June 29, 2019
From black to white, now the girls are burning the stage with their captivating red outfits.  They then performed another remixed version of "Heart Shaker" that fits their outfits, followed by "Strawberry", and "Woohoo".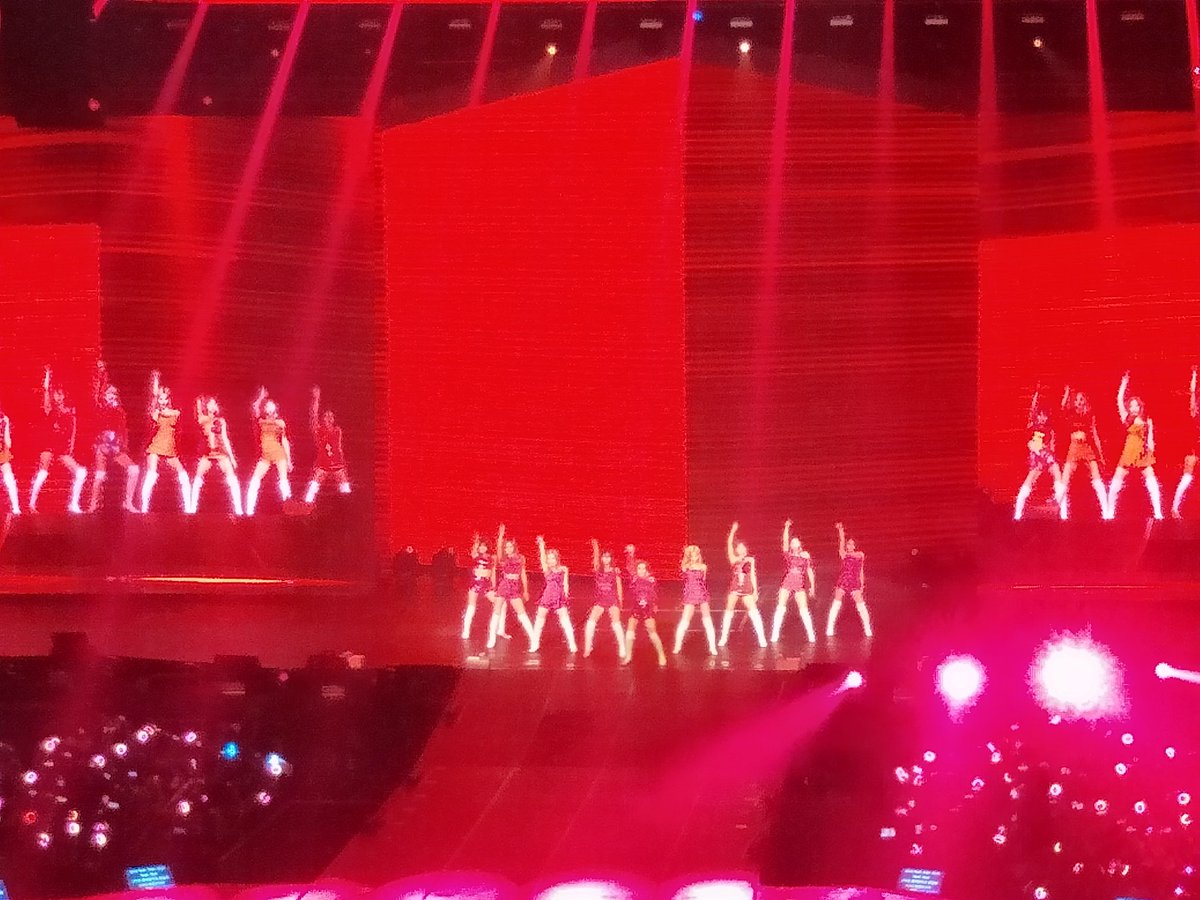 Giving the fans different colors of their performances, they broke down into three sub-units. Dahyun, Sana, and Tzuyu became the first sub-unit to perform. Giving the crowd more feels, they performed a cover of Beyoncé's "Dance For You".
Following them is Momo and Jihyo wearing blue outfits performing Taemin's "Goodbye". It was really a powerful performance. The last sub-unit that performed was Nayeon, Jeongyeon, Mina, and Chaeyoung. The crowd sang along with them as they perform Lady Gaga's "Born this Way".
After their sub-unit performances, they again had a change of outfit and went out on stage standing inside the beautiful diamond style stage. They then performed their most awaited songs, "Likey" and "What is Love?". They paused for a bit to ask the fans about their thoughts on the stages they performed.
"Like Ohh Ahh", "TT", and "Fancy" followed then. The fan chants were so loud that even the seats were shaking. Truly the power of PH ONCEs!
An interactive VCR was then played. Showing how they definitely love TWICE, the fans answered some questions, danced to their songs, and even did a fan chant. In order for the girls to come back to the stage, PH ONCEs need to make the lightstick flashed on the screen lit up by screaming and shouting. So, the fans gave their very best and TWICE went back performing "Knock knock".
A special video presentation made by TWICE PH was then presented showing how much the Filipino ONCEs waited for them. The fans sang "One in a Million" for the girls. It was really a one in a million moment.
Before performing their last stage, TWICE left their messages to PH Fans.
Jihyo: Among all those who danced, you were the most energetic. I never expected that many fans will come here. I hope you all had fun. Let's see each other again soon! Ingat!
Mina: 3 years is so much. Thank you for waiting for us. We will try our best to come back again. Salamat sa pagpunta niyo!
Sana: I was finally able to see how much you wanted to see us… I guess we have to comeback soon! Magkikita tayo uli!
Jeongyeon: I really felt that PH Once are having fun. I hope we can come back again next year. ONCE, the best kayo!
Chaeyoung: Your screams were so loud. This is the first time I felt flustered. I really do wish we can come back to the Philippines again soon. Masaya kami ngayong gabi!
Momo: When we come back, will you cheer for us again? Masaya ako makita kayo mga ONCE. Salamat po!
Nayeon: You guys patiently waited for us. The thought in my mind is that I will really come back to the Philippines! We'll be back with better performances. Babalik kami!
Dahyun: I don't think I'll ever forget today! If you guys have fun, SIGAW! I have one last thing to say to ONCE. Mahal ko kayo. Salamat po!
Tzuyu: You guys are really good at dancing! Thank you for enjoying our songs. I wish we can see each other again on the next concert. Mamimiss ko kayo!
To capture this very special moment, TWICE took a photo with the fans while holding the banners. They then performed a mash-up of their songs and roamed around the stage to see the beautiful and handsome faces of their PH ONCEs. To end the show, they sang their song "Stuck". Everyone definitely felt stuck on their seats.
Happiness filled the whole MOA Arena. The fans definitely felt that it was really worth the wait. This one in a million experience will be forever treasured!
TWICE World Tour 2019: TWICELIGHTS in Manila was presented by PULP Live World and JYP Entertainment. Thank you so much PULP Live World for the invitation to the event. Watch out for our news coverage!